The Chūō (Rapid) Line is a fast subway line of the East Japan Railways Company that I take all the time when I'm in Japan., it leaves from Tokyo central station to reach the local and popular neighborhoods in the west of the city.

With this series of 16 drawings, I wanted to evoke the omnipresent feeling that I experience when I travel on this train : an almost retro-futuristic nostalgia for an unknown past. So I chose to tell a deconstructed story, made of bribes of images and intertwined panels borrowed from comics, in order to recreate a blurry sensation like when you wake up dizzy from a strange dream.

Using the artisanal technique of painting on transparent celluloid, which uses traditional methods of coloring Japanese animations from the 60s to the 00s, I created ultra pop panel compositions where architectural elements and urban signs of Tokyo coexist. collide with ethereal female figures, Op Art geometric shapes, kanji and graphic elements from the manga.

These gouaches on seruga which rocked my childhood in animēshon such as ''Neon Genesis Evangelion'' or ''Cowboy Bebop'' are this time inanimate, as if frozen in time and superimposed on hand drawings. graphics tablet and printed on paper.

I then suggested to my friend Clara Pacotte that she write a text inspired by my drawings.
She responded to this invitation by imagining romantic stories that would take place at each station on this line, which she took up several times. These Tokyo romances, by leaving room for the free association between image and story, allow the drawings to resonate differently in the gallery space, to reproduce in another way the sensation that one can have when one is immersed in a gekiga, a novel.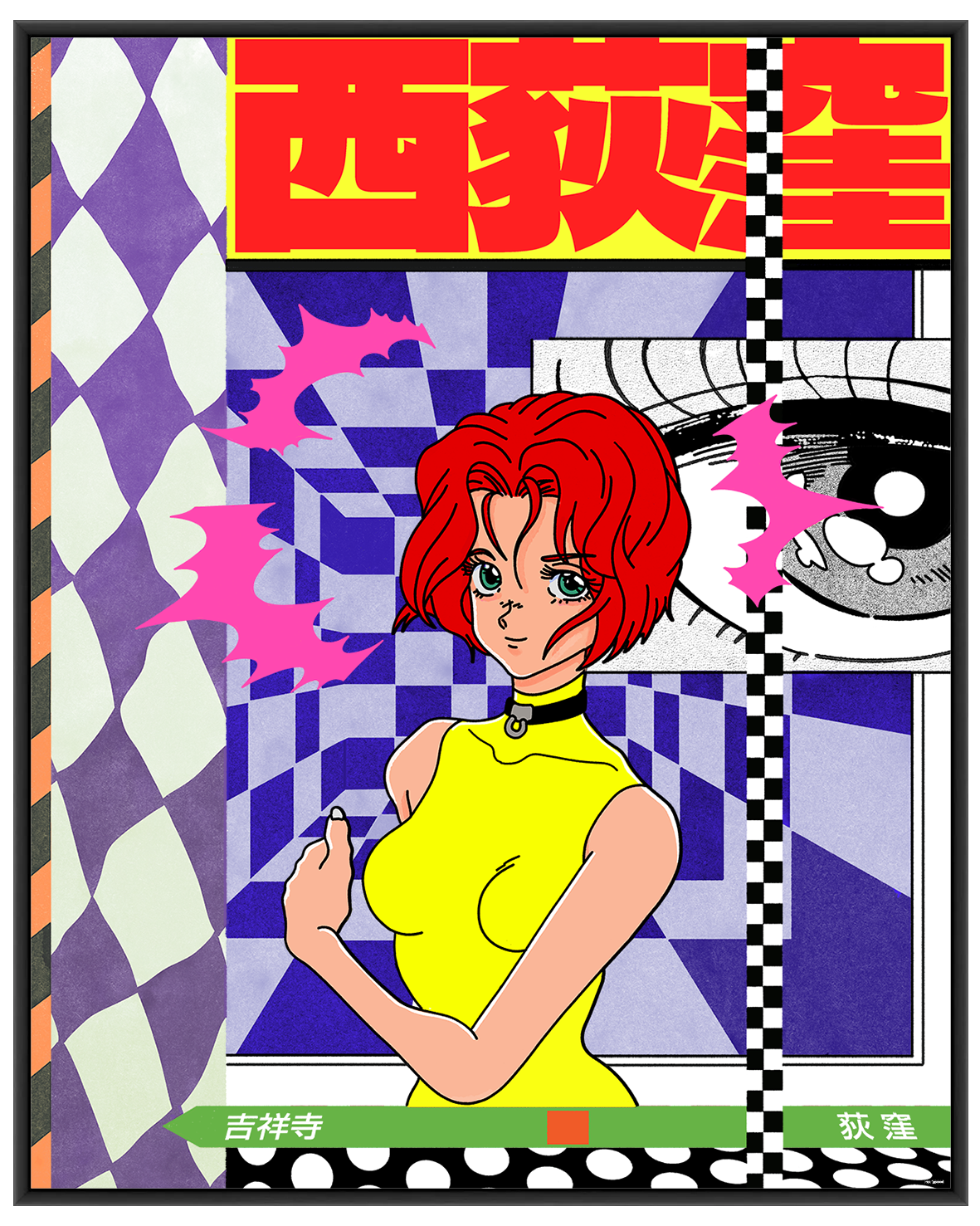 In this exhibition, the Chūō Line (Rapid) can thus be transformed into "Chūō Timeline (Rapid)": a journey through time from station to station through romantic, psychedelic and introspective memories.
Exhibition at Galerie Atelier Bergère from Nov 9 to Nov 30
33 rue de Tévise Paris 9
Opening Nov 9 from 6 P.M to 9 P.M